NEWS店舗ブログBRAND(メーカー)English 2018.7.13
【RUNWELL】GIFT Series
POSTED BY CST&Kazuya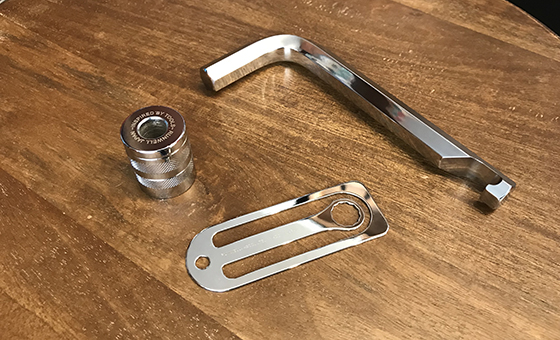 Products arrived from the bicycle tool brand "RUNWELL".
All are tool based GIFT series.
FUN KEY
A large hexagonal wrench for industrial use which we can not see at home is corkscrew.
Even though it is simple, a bottle opener that has a presence anywhere you put is just funky.
Please enjoy hand-made work designed by a technician who loves tools at bars and party venues.
Material SNCM
Overall length 125 mm
Weight 158 g
Processing Wire Cut (Punched Part)
Finish Chrome Plating
Price ¥ 3000 + tax
ANY CLIP
The tool turning the nut became a tool to clip documents and cash!
It corresponds to various scenes such as clip in business scene, Manny clip when traveling, bookmark bookmark etc.
ANY CLIP is a tool shaped clip that allows you to have a long lasting relationship without spreading your mouth even if you patronize it for many years.
Material Stainless steel (SUS 304 H)
Length 78 mm
1 mm thickness
Weight 10 g
Cutting of processing equipment
Finish mirror polishing
Price ¥ 2000 + Tax
PEN STAND
A pen and pencil stand that creates the smell of the industrial system made by imagining shining on the creator 's desk.
I used a socket inches as a motif and designed and enriched knurling
It is one of the stainary series.
Material Steel
Size Pencil Stand: W 18 x H 25 x D 18 mm
Paint: W24 × H30 × D24 mm
Price ¥ 1600 + Taxes
MADE IN JAPAN is undeniable in anything.
Regulary updating!
【What's New】New Item & Release
Please add us as a LINE friend!
You can get bargain information and latest tools information quickly.