NEWS店舗ブログBRAND(メーカー)新商品English 2018.2.19
【NEW PRODUCT】T-EV(Tech-EV)Insulation Gloves
POSTED BY 広報部&Kazuya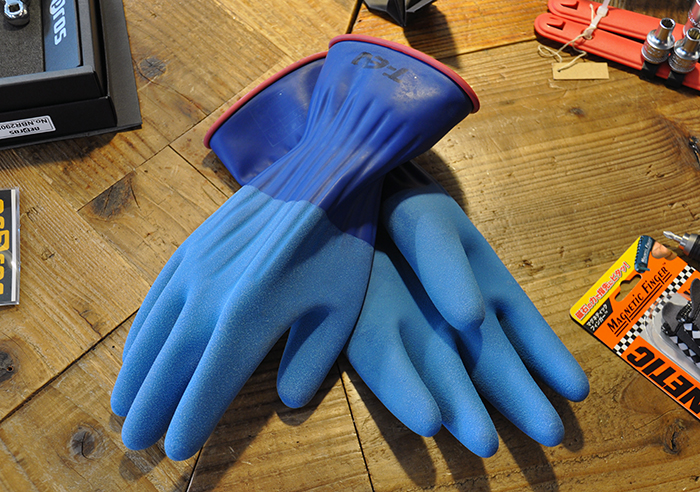 The insulation gloves of  Tech-EV have arrived at CONCEPT STUDIO TOKYO.
<Product Info>
Tech-EV Insulation Gloves
Item NO. SKGLOVELRL
Thickness 0.55mm
Two-layer structure of different colors
Technology Institution of Industrial Safety Passed
Price 3,557 yen(+tax)
ONLINE STORE
Considering  maintenance of HV(hybrid car) and EV (electric vehicle) , it realizes a preeminent fit that is quite different from conventional insulated gloves. It's compatible with small-diameter screw such as M5(8mm), M6(10mm) frequently used at battery. It made two-layer stricture(slip-proof part is three-layer structure) and it is safety comparing with the conventional products because you can check wear and damage of glove surface with your eyes. (first-layer: Blue, Second-layer: Red )  Considering automobile maintenance that uses various chemicals, this product uses hybrid material of natural rubber and synthetic rubber because resistance is insufficient with raw material of general natural rubber 100%. It made with pursuing durability against oil and some chemicals.
You can check and purchase these at CONCEPT STUDIO TOKYO.
Regulary updating!
【What's New】New Item & Release
Please add us as a LINE friend!
You can get bargain information and latest tools information quickly.