NEWS新商品 2017.11.20
【New Package】KNIPEX PLIERS SET 2 types
POSTED BY 広報部&Kazuya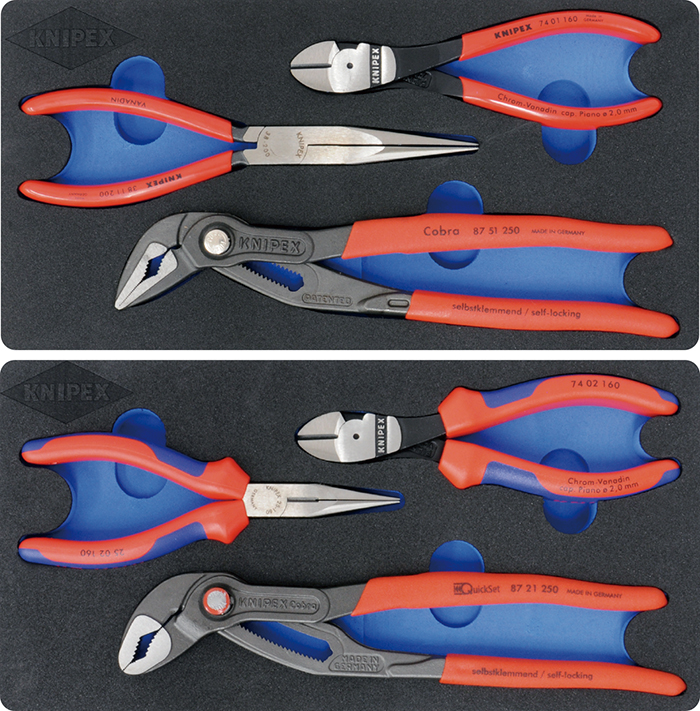 2 types bespoke set of FACTORY GEAR which put KNIPEX three popular items in a special package have released simultaneously.
Above picture
PLIERS 3pc SET A
・High Leverage Diagonal Cutters 160mm
・Mechanics' Pliers 200mm
・KNIPEX Cobra® ES Water Pump Pliers extra-slim 250mm
Total amount (list price) 13,950yen
Price 8,980yen(+Tax)
ONLINE STORE
Bottom picture
PLIERS 3pc SET B
・High Leverage Diagonal Cutters160mm
・Snipe Nose Side Cutting Pliers(Radio Pliers) 160mm
・KNIPEX Cobra® QuickSet Hightech Water Pump Pliers 250mm
Total amount (list price) 14,100yen
Price 9,780yen(+Tax)
ONLINE STORE
These are set with urethane tray preeminent fitting embossed a distinctive diamond shaped logo, so that tools don't move accidentally and there is no risk of loss.
Both A and B are special set included basic but also characteristic items.
Regulary updating!
【What's New】New Item & Release
Please add us as a LINE friend!
You can get bargain information and latest tools information quickly.