NEWS店舗ブログBRAND(メーカー)新商品 2017.9.14
【New Product】DEENxSKYROBOT Changeable Screwdriver Set
POSTED BY 広報部&Kazuya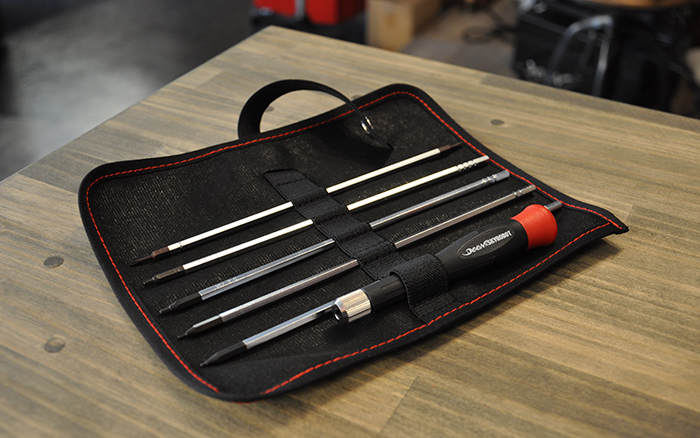 DEEN has decided to release changeable screwdriver set which is the main item of the "Drone Tool Set" created in response to requests from SKYROBOT, which operates the drone school, in a roll pouch.
<Product Info>
Changeable Screwdriver Set
Item No DNSK_BSET
Single end bit HEX 1.27、1.5、2.0、2.5mmx1 each total length 190mm
Double end bit +00x0x1 total length 190mm
changeable screwdriver handle x1 total length 110mm
Roll pouch x1 W170xD210mm when included tools: W210xD36x31mm
Price 3,980 yen(+tax)

The shank is made longer for drone maintenance.
This is a changeable screwdriver set that seems to be useful in working in a narrow space.
Because it comes with a special roll pouch made to fit the long shaft shank, it is convenient to carry.
It has  released  from September 15th (Fri.)
(Scheduled to arrive at Hakata and Sapporo on Saturday)
Please check it.
Regulary updating!
【What's New】New Item & Release
Please add us as a LINE friend!
You can get bargain information and latest tools information quickly.