NEWSEnglish 2017.7.19
【Demonstration Sale】OLFA X HYPER
POSTED BY Kaori・Kazuya
This is the new product of "OLFA" which contrived the method to sustain sharpness of blade to the last by snap off dull blade and invented the world's first "SNAP-OFF BLADE CUTTER". The Hyper series of X design which achieved ease to use and stable cutting is now on demonstration sale.
Japanese Page :【デモ販売中】OLFA エックスハイパー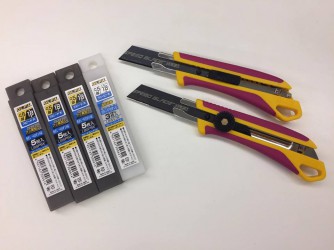 It's attached the Speed Blade coated fluorine on polished surface, and in comparison with conventional products, cut resistance value during cutting cardboard become about half of that.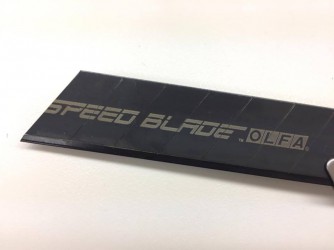 There are four types of applicable blade.
・Speed Blade (Large)
Polished surface of the Black Blade is fluorine coated, and it materially reduces resistance during cutting.
・OLFA Cutter(Large)
Achieved stable cutting with well-balanced of durability and sharpness.
・Black Blade(Large)
Unbelievable sharpness of blade with sharp edge polishing.
Achived very well smooth cutting while durability is ensured.
・Wavy Blade(Large)
The wave-shaped edge smoothly cuts slippy hard-to-cut materials.
Three types of grip of limited production color, blue, pink and green have been prepared at CONCEPT STUDIO TOKYO .
You can see, touch, check and feel hand tools at CONCEPT STUDIO TOKYO.
Please contact nearest shop for stock and inventory status of each FACTORY GEAR shop.
ADDRESS:TAITO 2-7-1 ANDO BUILD 1F TAITO-KU, TOKYO
TEL:03-5812-5959
Business day: AM 10:00 to PM 6:00 (Closed: Wed. )
〈ACCESS〉
10 minutes on foot from "JR Akihabara Station" Syowadori Exit
10 minutes on foot from "JR Okatimati Station" South Exit.
7 minutes on foot from "Tokyo Metro Hibiya Line Nakaokatimati Station" Exit 1
12 minutes on foot from "Toei Subway Oedo Line Uenookatimati Station" Direction A8 Exit 3
Regulary updating!
【What's New】New Item & Release
Please add us as a LINE friend!
You can get bargain information and latest tools information quickly.